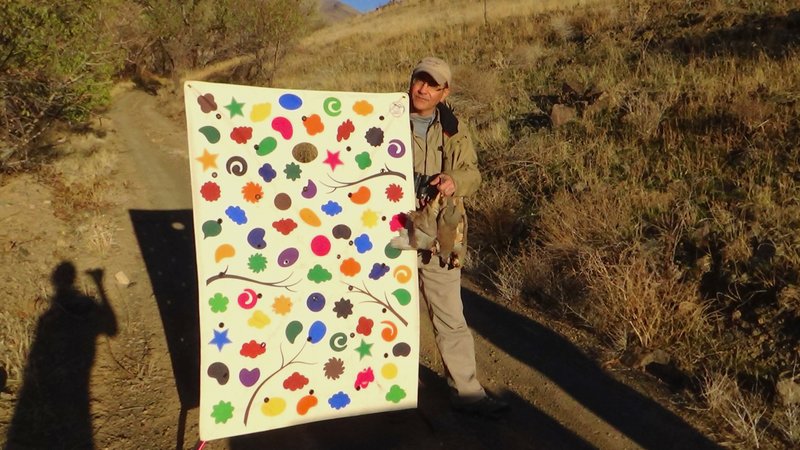 Blind Magnet®
Our flagship product, Blind Magnet® , is battle-tested and works like a charm. Typically, hunting blinds are stationary and designed to conceal the hunter from the game. In this sense, traditional blinds are passive blinds. They are placed in locations where birds or animals are likely to appear, concealing the presence of the hunter.

The common design for hunting blinds is a camouflaged surface that is meant to blend in with the blind's environment. By contrast, Blind Magnet is colorful, highly visible and can be used as a mobile shield. It is designed to stand out in the environment. The colorful canvas attracts game birds to the hunter while allowing the hunter to approach the game. This counter-intuitive design is unique, attracting attention to the blind while concealing the hunter.
How the
Blind Magnet®
Works


It's the particular patented combination of colors and the pattern in which they are displayed that attracts the birds. If you're using it in stationary mode you set up the blind where the birds are likely to see it and occasionally call to get their attention. If you're using the blind in mobile mode, the angle of approach, your movements and stalking techniques all play important roles in attracting the chukar.

Specific guidelines to follow in order to be successful with Blind Magnet are explained in detail in the product manual. The design of Blind Magnet is based on extensive field testing in rugged Chukar terrain. It is constructed with minimal parts in order to be collapsible, lightweight and durable. It is easy to transport, assemble and carry in the field, and has perforations on the canvas to minimize wind resistance.

Blind Magnet® makes your hunting more productive. It's another way of hunting chukars when they are wary of dogs and don't hold for you to get within range. Take the time to learn the skills for using it. You will still have to do some hiking when using the blind in stalking mode, but if you're willing to put in the time and effort, you'll find it very exciting and exhilarating, and the results are delicious!
Advantages of Using

Blind Magnet™
There are several advantages to using Blind Magnet™. Chukars are famous for not holding well for bird dogs. This is especially true deep into the hunting season; Chukars become wary and take flight before hunters can get within range, but they respond to Blind Magnet once they see it. Use the mobile blind if you're an active hunter or if you don't feel like climbing steep hills try one of our ground chukar blinds.

Since Chukars are social birds and live in coveys, they come to you in numbers and tend to congregate in front of Blind Magnet™. When they see the Blind, they make excited short clucking noises flapping their wings at times as they approach. It's quite a site! At this exciting moment, you have a choice to shoot them through the slot in the canvas or emerge from the blind and shoot them in flight. Moreover, since you have some control over the spot where you shoot the birds, you're less likely to lose them and you usually don't have to wear yourself out by hiking down steep slopes to retrieve them. Blind Magnet™ is available in three forms, pop-open Instashield, pole operated Tactical Shield and Ground Blind